Bentonite Multani Face Pack (For Acne-Free Skin) | Sensitive Skin
Regular price
₹549.00
Sale price
₹499.00
Unit price
per
Sale
Sold out
Clear and control your pesky pimples with our Bentonite Multani Face Pack. 100% plant-based, chemical, and toxin-free face pack made with anti-bacterial rich ingredients keeps your pimples in control. French green clay is an added benefit to control excess oil secretion.
 Suitable for Sensitive Skin.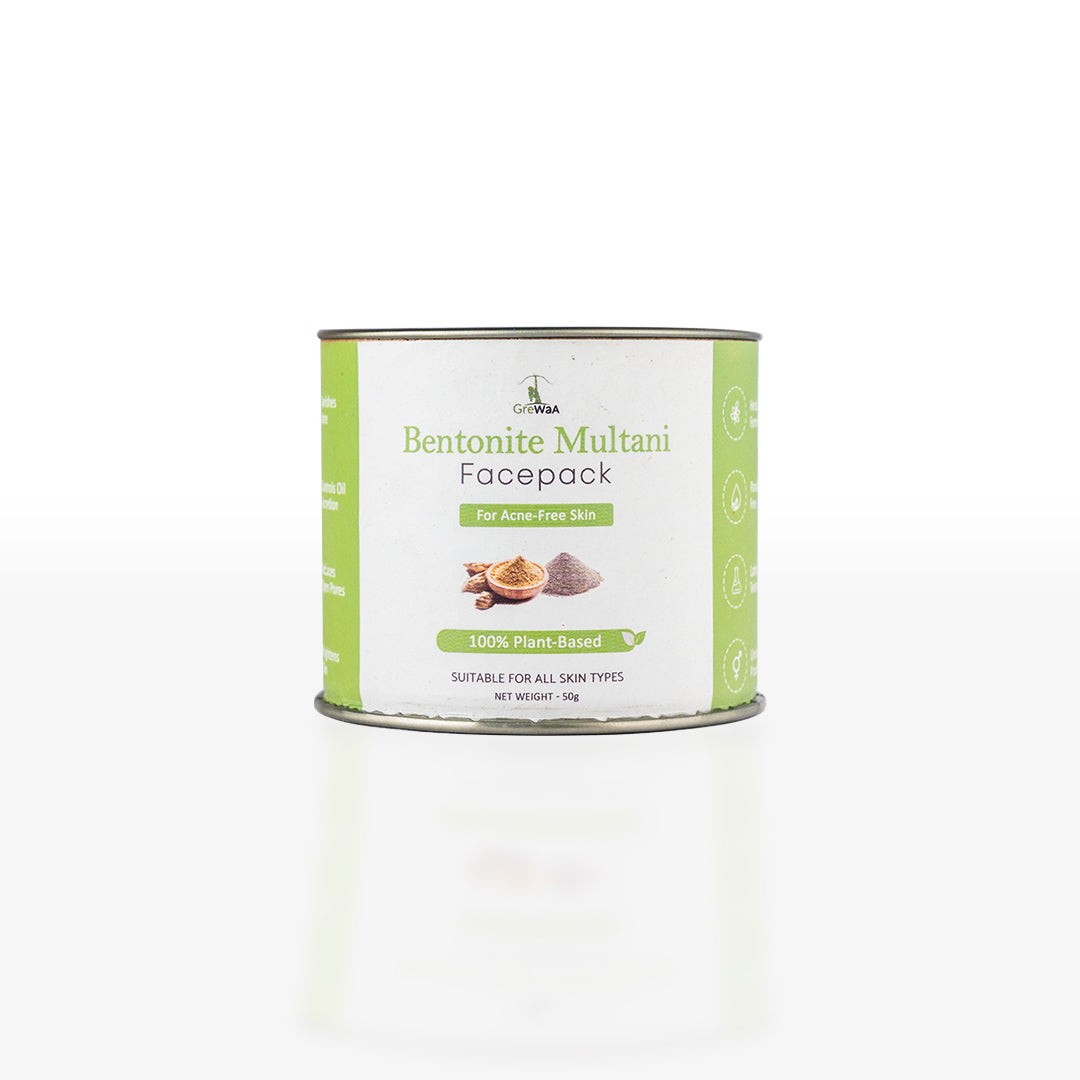 Heals Stubborn Acne
Be it Pimples, Cysts, Hormonal Acne, Papule, Pustules, Blackheads, or Whiteheads, it can be healed.
Removes Excess Oil
Unclogs pores by removing excess oil and gives a clean-looking face.
Fades Dark Spots
The acne-against activators penetrate the skin to remove the traces of acne and provide spotless skin.
Clears Dirt & Impurities
The surfactant present in it gives a deep cleansing to remove all the sedimented impurities.
Vanishes Stubborn Acne
Be it Pimples, Cysts, Hormonal Acne, Papule, Pustules, Blackheads, or Whiteheads, it can be healed.
Controls Oil Secretion
Removes excess oil and unclogs pores giving a clean-looking face.
Shrinks Pores
Helps to minimize open pores on regular usage.
Brightens Skin
The natural tendency to curb excess oil secretion instantly brightens skin.
✔️Chilling ✔️Oil-free ✔️Herbal
Bentonite Clay
Bentonite Clay's adsorbent capacity aids in treating acne breakouts and oily skin. The clay can help remove excess sebum, or oil, from the skin, and it also provides a calming effect on inflamed breakouts.
Green Tea
Green tea has anti-bacterial agents that help in fighting acne-causing bacteria. The polyphenols in green tea can fight against infection by damaging bacterial membranes, which in turn help control acne. Green tea also reduces blackheads, and whiteheads and paves the way for calm and clear skin.
French Green Clay
French Green Clay possesses soothing and anti-inflammatory characteristics that can effectively alleviate redness, irritation, and inflammation originating from conditions like acne, eczema, or psoriasis.
Basil Leaf
Basil or Tulsi is cooling and soothing in nature which enhances its excellent anti-inflammatory properties to work well in warding off skin irritations, small wounds, and acne. Also rich in Vitamin C, it boosts metabolism and lends brighter complexion, firmness, and elasticity to the skin.
Real People. Real Reviews
Transformed
20000+
Customers' Skin Flawless
Sign Up To Be The Special One
Get exclusive updates about our offers, new launches, and giveaways.
Need Assistance?
We are here to assist with your queries or concerns.
We Don't Sell Products, We Provide The Solution
Our relationship with you won't end after a purchase. You can reach out to us for any support as your skin without acne is what we strive for.
Reach Us Out
support@grewaa.com
95518 71033
Corporate Office:
Aeka Herbal Cosmetics Pvt. Ltd.,
No.76/1, 1st Floor, Bhuvana Garden, P H Road, Velappanchavadi, Chennai - 600077, India.